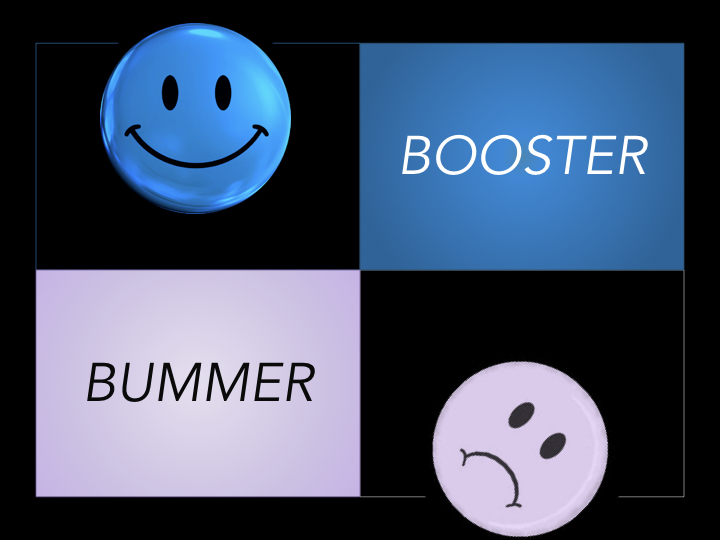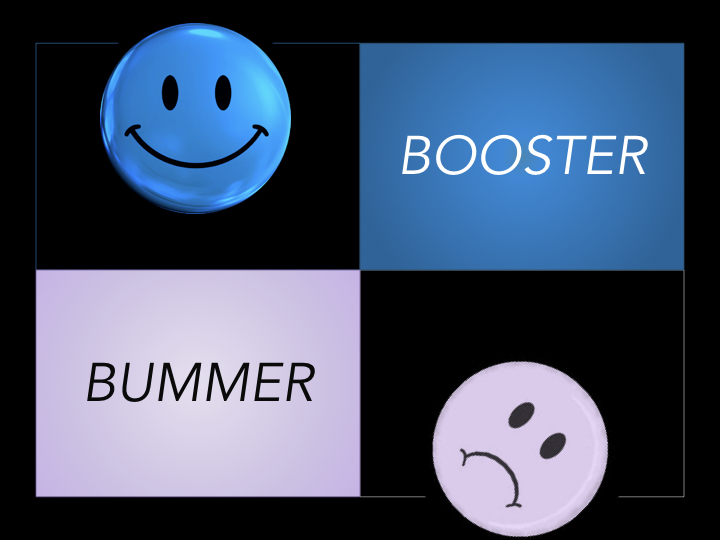 —
This is a 3 min. exercise I've been doing in my trainings. I created it because relationships are a great source of energy. Given our limited mobility these days and the constraints of online interaction, who can't do with a bit more energy? But relationships can also drain our energy. So it's crucial to know which are and are not energizing us.
Step 1
Make a list of the top 5 to 10 people that you spend more time with, people that occupy your physical and/or psychological time. The nature of the relationship is not relevant here. However people you love but don't spend too much time with are not for this list.
Step 2
Make two columns. On the left write "Bummer", on the right write "Booster". In the "Booster" column put the names above of the relationships that are energizing you. In the "bummer" put the names of relationships that are currently draining you. When in doubt, opt for the bummer side.
Do this honestly. Notice that we're talking about the state of the relationship and not the person. Relationships have ups and downs. You might have a relationship with someone you love dearly that is currently in a bummer state.
Step 3
For the people in the booster column commit to reinforce your relationship with plenty of positive feedback, compliments and appreciation. This will strengthen the booster loop you have going.
Step 4
For the people in the bummer column, choose one of these three options:
Option 1: End the relationship. If the relationship really doesn't bring anything significant to your life and you are in a position to end it, end it.
Option 2: Fix the relationship. If the relationship is one you value deeply and want to continue, then it's time to have one of those talks and let them know you're being drained. Left as is, this relationship can turn toxic.
Option 3: Insulate (not isolate) yourself from the other person. If you can't end the relationship, and it just ins't worth fixing, you want to protect yourself from their draining influence.
This is done with what Andres Martin, founder of the Foundation for Emotional Education of Barcelona, calls an "emotional condom". A condom allows you to interact without getting infected, in this case, without draining your energy. This is choosing to walk away, inside.