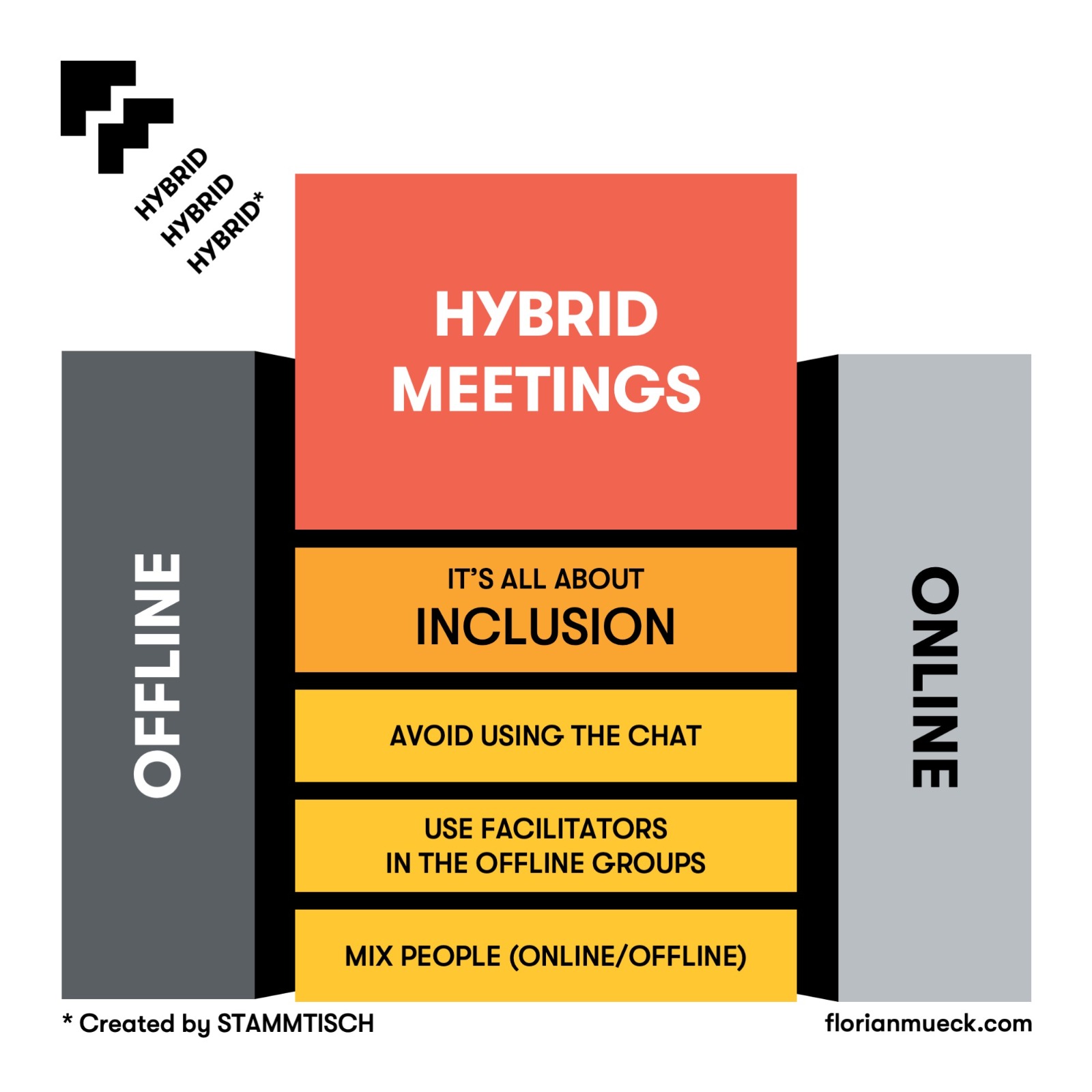 Last week I had my first hybrid meeting. It was public speaking training with ALG, a global consultancy. The meeting had an interesting setup. Four trainers: Conor and Sebastián were in their home studios. Claudio was in a conference room in Madrid with a group. I was in the Barcelona offices with another group. The remaining participated from their homes.
In hybrid meetings, some participants are physically alone connecting on their own computer, while others are together in a room, connecting with just one computer. The result is a mix of the dynamics of face-to-face interaction with the dynamics of online interaction.
What to do differently in hybrid meetings?
—
At our weekly Stammtisch meeting, I brought the question to my buddies and fellow trainers, Alex and Florian. Here are our four guidelines that Florian kindly captured in an infographic.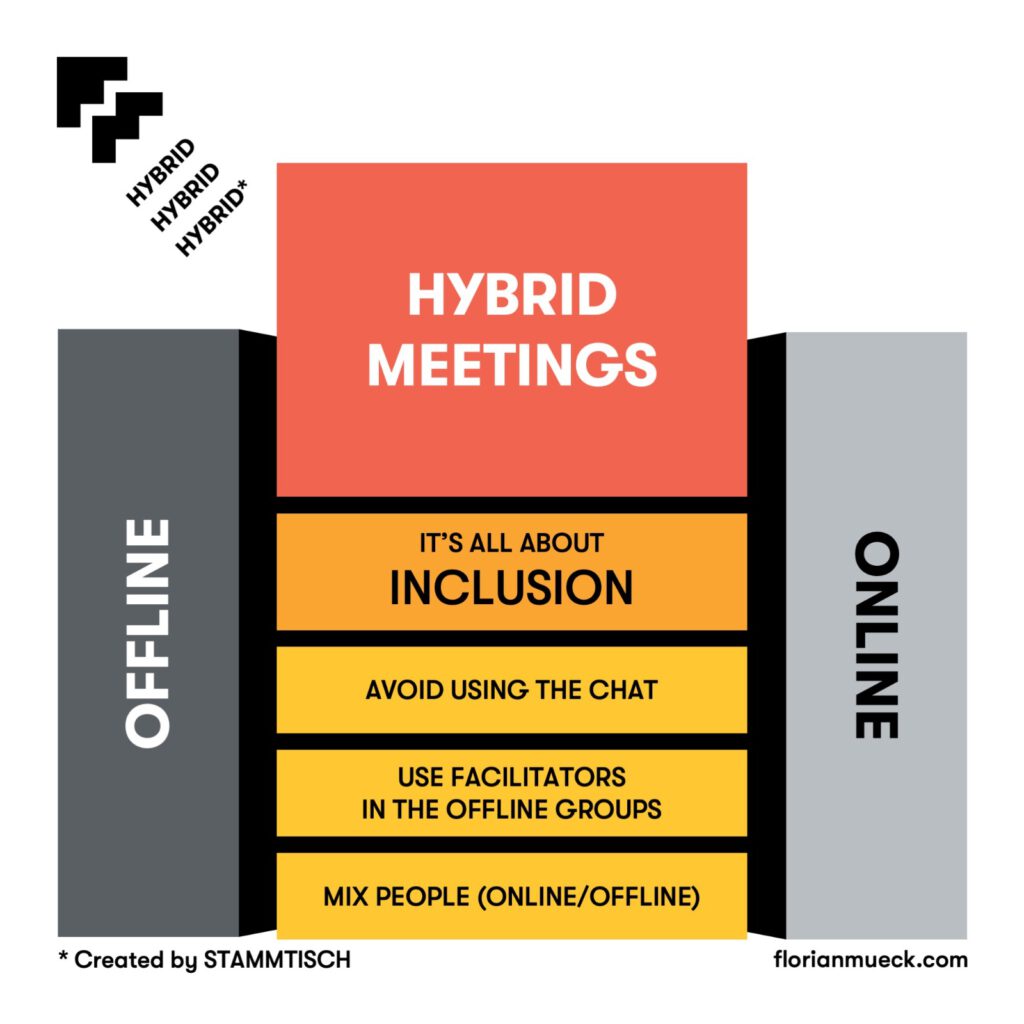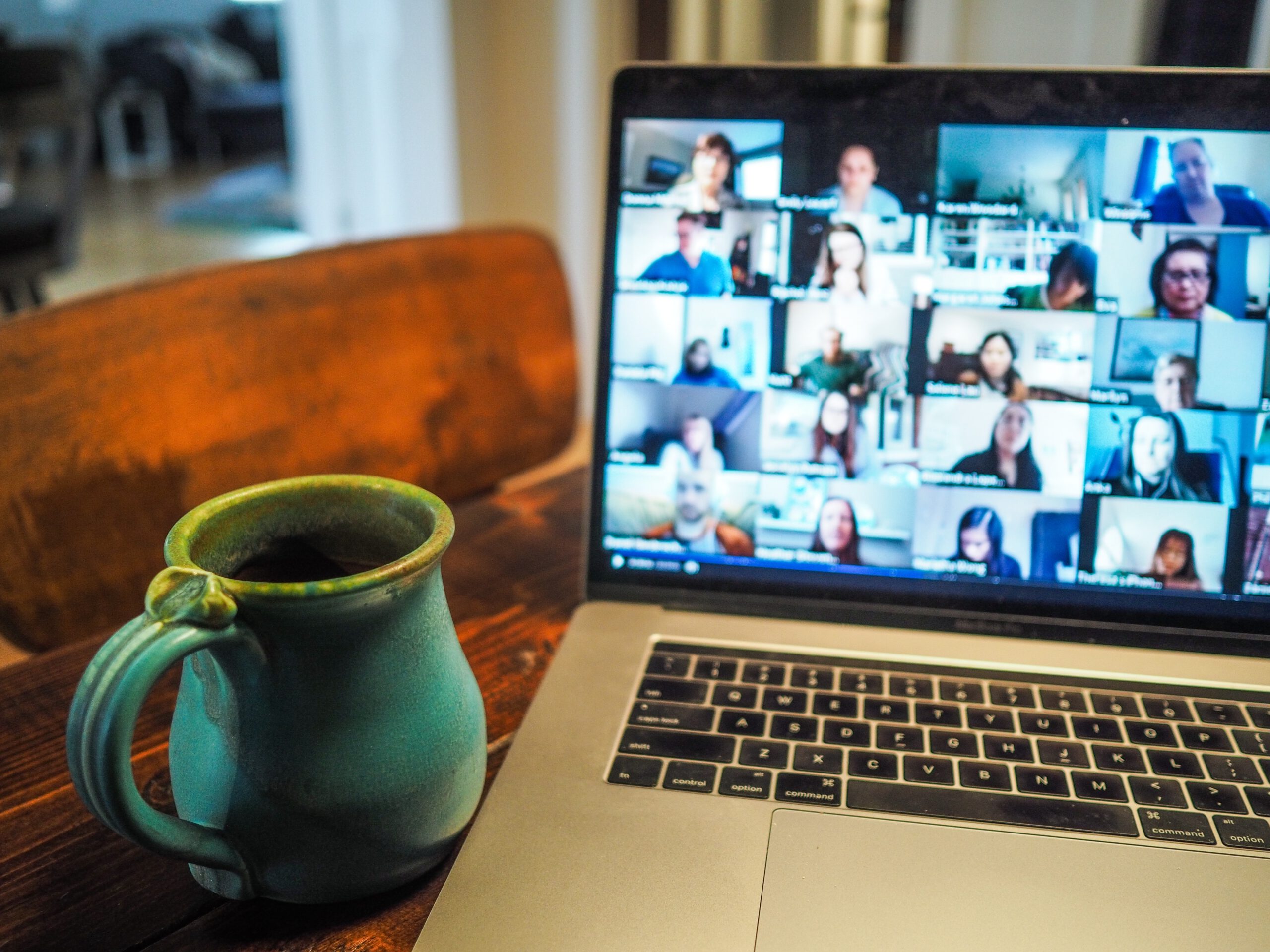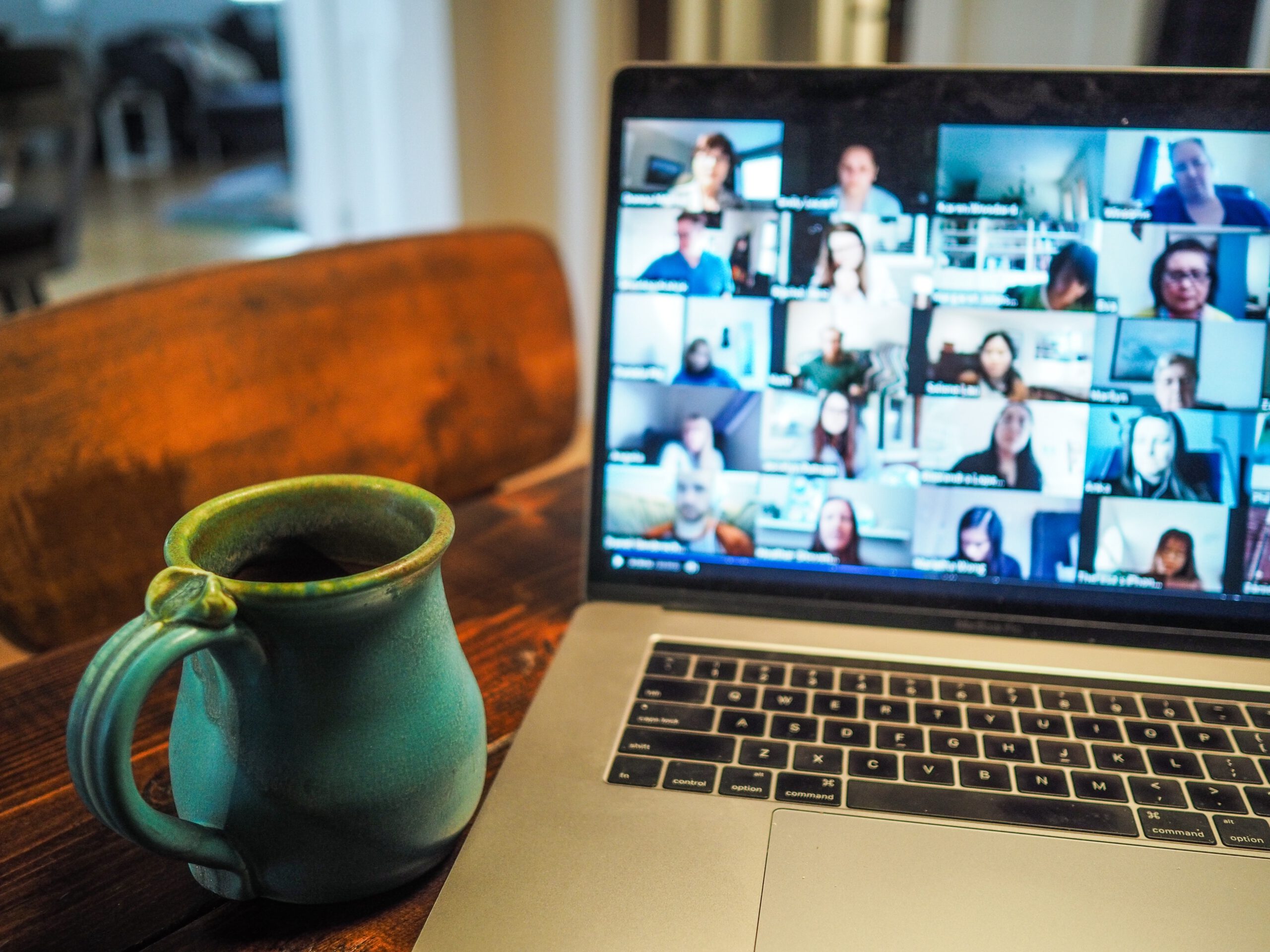 Photo by Chris Montgomery on Unsplash
—
About a month ago, I was catching up with my great friend Milu, when she asked about work. I told her I was super excited with my latest client, the Spanish branch of Westwing, an inspiring European eCommerce in Home & Living. I also told her I was a little scared. They wanted my signature course "From Bummer to Booster: 12 Steps to Become a Badass Team Player".
I had previously done bits and prices of this online. But this time it was the full version: two days, from nine to six, all on Zoom. What's more, I've been doing this course in person for nine years, so I've refined it to the point where — without wanting to toot my horn too much — it's become a transformational experience.
So, yeah, I was a little concerned about how effective it would be online. Would folks survive these long hours? Would it be worth it? Without even letting me finish, Milu unequivocally asserted: "You're gonna nail it." I full heartedly welcomed her encouragement.
Today I'll conclude the fourth round of this course with Westing. Was it worth it? The outcomes and the feedback allow me to confidently answer: "Hell Yeah!" It would not have been possible without the outstanding vibe that Westwing has (btw their products are also outstanding!).
Conclusion: If you'd asked me a year ago if my workshops would work online, I'd say no way. Today they all happen online. There is still much to learn and refine but it is nice to see the magic of transformation also happening online.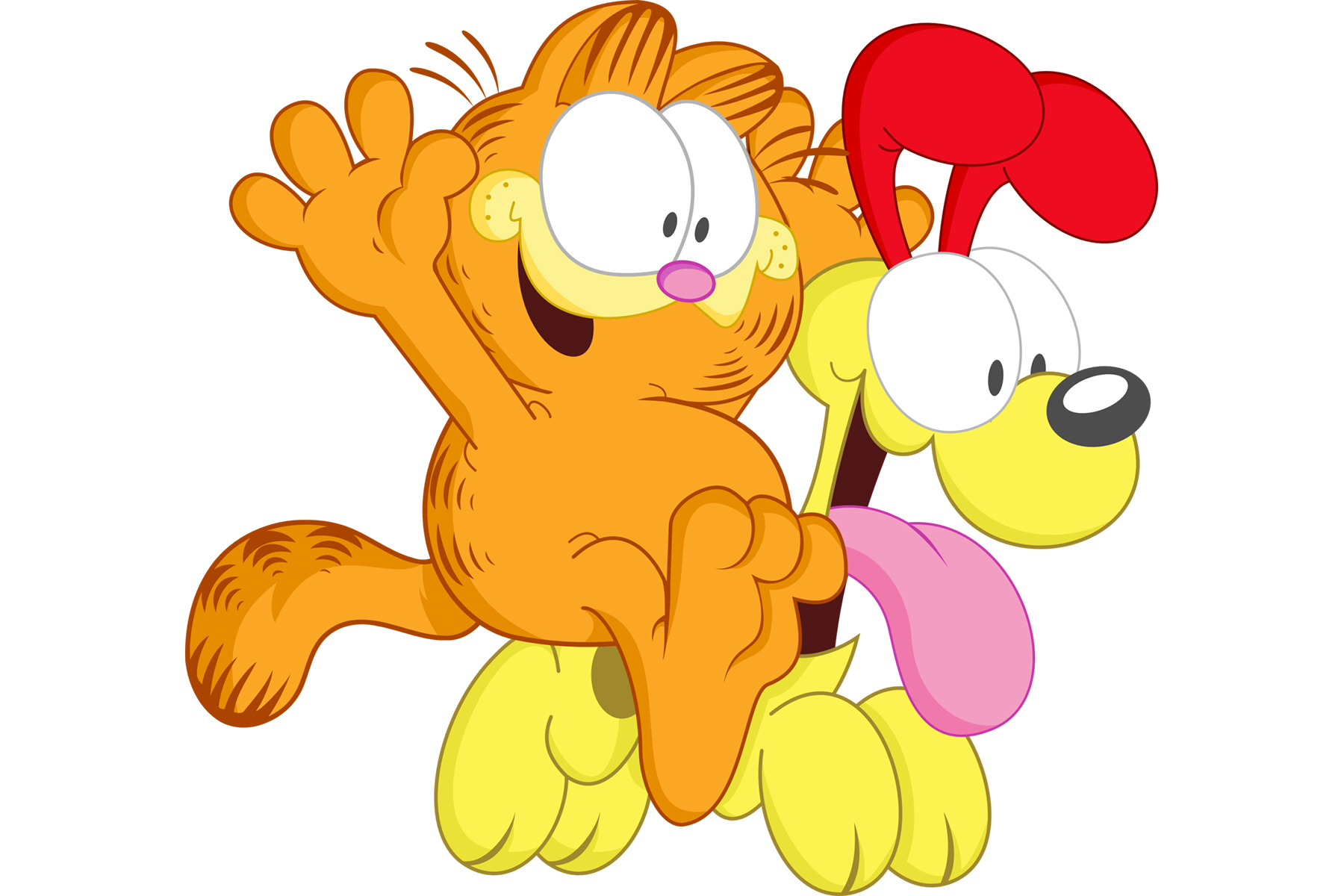 The other day my friend and colleague Evgueni Talal, a specialist in customer satisfaction, asked for feedback on a workshop he's preparing for the Toastmasters Fall District Conference in Lyon.
This got me thinking about what makes workshops awesome. I noticed four recurring elements that make workshops memorable experiences. Remember Odie from Garfield? These are the ODIE elements of awesome workshops.
Original: How will the content be MINE?
When I began creating my conflict resolution seminars, I asked my friend and colleague, Florian Mueck, a public speaking and charismatic communication expert, for advice. Halfway through my first sentence, he said: "Stop! Don't talk about someone else's stuff. Present your own material."
"Original" answers the question: What does the workshop offer that is uniquely mine that participants can get nowhere else? Evgueni has decided on something unique, to say the least. I won't ruin the surprise, but be prepared to dance!!
This element avoids making the workshop merely a loudspeaker for other people's material. Think about it:  Why would someone want go to a workshop to listen to you talk about someone else's ideas?
But how can we be original when some of the material is not ours? Only you own the experience of the content. Share your personal experience and add value by making connections we haven't heard of. What does networking have to do with dancing? I have no idea. Ask Evgueni!!
Doable: How will lives change?
The high applicability of the workshop to real life situations is crucial. "Doable" answers the questions: What will participants be capable of DOING when the workshop is over? What are the specific outcomes they can count on?
The answer to these questions begins with: By the end of the workshop participants will be able to do 1… 2… and 3… Once you've got the answers to this, design your workshop to make it happen.
What we avoid here are merely reflexive workshops that make us think about cool stuff but don't equip us with the tools to change specific situations in our lives.
Interactive: How will they share the stage?
Workshops where the participants are the stars are always successful workshops. The interactive element answers the question: What exercises and activities will I include to involve the participants?
What we avoid here are passive workshops, where participants receive but do not give. Awesome workshops invite participants to share their knowledge and skills. This is what makes it a workshop instead of a lecture or a speech.
Entertaining: How will they be fully engaged?
No one wants to deliver boring workshops. But some people do. Inspiring others with our enthusiasm is the name of the game. It's the greatest challenge we face.
Here are a few tips to make workshops more entertaining: tell stories, provide a form-like-handout with questions and blank slots to be filled throughout the workshop, and use examples that relate directly to your participants' struggles.
Thank you Evgueni, for inspiring the topic for this post! Thank you Odie, for making the elements unforgettable: Original, Doable, Interactive and Entertaining!